Pastor Ralph
Pastor Ralph was born in Canton, Ohio in 1935. In 1953, he graduated from Youngstown South High School. He attended the University of Pennsylvania until 1955 when he transferred to Thiel College in Greenville, Pa. He graduated from Thiel in 1958.
In 1962, Pastor Ralph graduated from the Hamma School of Theology, Wittenberg University in Springfield, Ohio. He was ordained at Holy Trinity Lutheran Church, Greenville, Pa. He earned his Doctor in Theology from Ashland Theological Seminary, Ashland, Ohio in 1978.
On May 23, 1959, he married Patricia (Pat) McDermott in Turtle Creek, Pa. They have 4 daughters, 9 grandchildren and 6 great-grandchildren.
Since ordination, Pastor has served as Assistant Pastor at Zion Lutheran Church, Canton, Ohio for 5 years. He then served as Mission Redeveloper and Pastor at Holy Trinity Lutheran Church, Brunswick, Ohio for 15 years. He then served as Pastor at St. Mark Lutheran Church, Van Wert , Ohio for 20 years. While in Van Wert he also taught History of World Religions at Lutheran School of Allied Health Professions for 10 years. He also monitored 7 Interns.
Pastor Ralph and Pat moved to Catawba Island upon retirement. He is active in Rotary and served as District Governor in the year 2007-2008. He continues to be active in the Rotary Club of Port Clinton. Since retirement, Pastor Ralph has served as Interim Pastor in numerous congregations.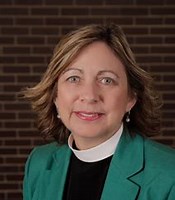 Pastor Cathy
Pastor Cathy or Pastor Schibler is married to Clayton Keegan. They have three children: Meredith, Sarah & Jacob. Pastor Cathy grew up in Brunswick Ohio and was a marching Blue Devil playing flute and piccolo. From there she went to Wittenberg University and graduated with a Bachelor of Arts degree in Political Science and English. She attended Trinity Lutheran Seminary in Columbus Ohio and has been ordained for 32 years.
Her first call was to Good Shepherd in Vickery, Ohio. After serving nine years, she was called to the bishop's staff of the Northwestern Ohio Synod and served for 18 years working with candidates for ministry and with congregations in the call process or conflict.
After Bishop Lohrmann retired, the ELCA churchwide organization called her to serve at Portico Benefits Services, the ELCA organization that provides health benefits and retirement for our rostered ministers.
Pastor Cathy sits on the Board of Directors for Wittenberg University. Trinity Sandusky is her fourth interim serving with her dad, Pastor Ralph Schibler.